The Encephalitis Podcast is brought to you by the Encephalitis Society and covers everything to do surrounding inflammation of the brain. Interviews with neurologists, psychiatrists, survivors and in-depth looks at different aspects of encephalitis. For more information about encephalitis, visit www.encephalitis.info
Episodes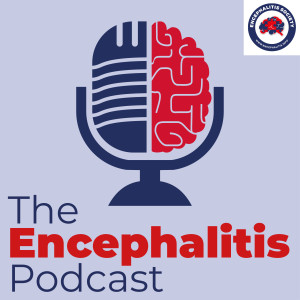 Monday Dec 12, 2022
Monday Dec 12, 2022
In this edition of The Encephalitis Podcast, Dr Ava Easton is joined by Dr Greta Wood for a discussion around seizures and encephalitis.
In this wide-ranging conversation, they discuss an important new research paper before answering some questions around seizures and encephalitis.
Greta is an Academic Clinical Fellow in Infectious Diseases at the University of Liverpool and has a wide range of research interests, including the socio-economic impact of infectious diseases and multi-morbidity.
She is also a member of the COVID-19 Clinical Neuroscience Study which is investigating the neurological and neuropsychiatric complications of COVID-19.
The Encephalitis Podcast is also available on podcast channels, such as Apple, Google Play, Podbean and Spotify.
Find out more about seizures and encephalitis by viewing our factsheet: https://www.encephalitis.info/seizures-and-encephalitis
For more information about Greta, visit https://www.liverpool.ac.uk/infection-veterinary-and-ecological-sciences/staff/greta-wood/
The research paper, Acute seizure risk in patients with encephalitis, can be found here: https://neurologyopen.bmj.com/content/4/2/e000323 
If you have been affected by encephalitis and are in need of some support, please visit https://www.encephalitis.info/support
If you have been affected by encephalitis and would like to become a member of the society, you can sign up here (membership is free and global): https://www.encephalitis.info/Pages/Category/membership
If you would like to donate to help fund research, information and support for those affected by encephalitis, please follow this link: https://www.encephalitis.info/donate/donate/10
Follow the Encephalitis Society: Facebook: https://www.facebook.com/EncephalitisSociety/
Twitter: https://twitter.com/encephalitis
Instagram: https://www.instagram.com/the_encephalitis_society_/
LinkedIn: https://www.linkedin.com/company/the-encephalitis-society