The Encephalitis Podcast is brought to you by the Encephalitis Society and covers everything to do surrounding inflammation of the brain. Interviews with neurologists, psychiatrists, survivors and in-depth looks at different aspects of encephalitis. For more information about encephalitis, visit www.encephalitis.info
Episodes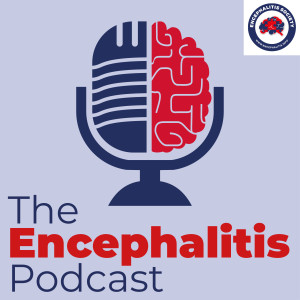 Wednesday Feb 22, 2023
Wednesday Feb 22, 2023
Welcome to a special World Encephalitis Day edition of the Encephalitis Podcast.
Dr Ava Easton, Chief Executive of the Encephalitis Society, is joined by Dr Thomas Pollak, from Kings College London, and Dr Jesus Ramirez-Bermudez, of the National Institute of Neurology and Neurosurgery of Mexico, to talk about some two new important research papers around mental health and encephalitis.
An important note for our viewers and listeners: this podcast will be touching on some difficult areas, including more broad mental health issues and difficult topics such as self-harm and suicide.
If this is something which may lead to difficult emotions for you or for someone you know, please know that our support team are here to help and can be reached on support@encephalitis.info or by calling +44(0)1653 699599.
Also, in the links to this episode, you will find some resources which we have put together around mental health which we believe will be helpful to anyone affected by encephalitis and also their family and friends. This includes links to useful organisations around the world, a factsheet on mental health and lots of sources of support and information.
For more information about World Encephalitis Day on Wednesday, 22nd February, please visit www.worldencephalitisday.org
For information about mental health and encephalitis, visit https://www.encephalitis.info/pages/category/mental-health-and-encephalitis
If you have been affected by encephalitis and are in need of some support, please visit https://www.encephalitis.info/support
If you have been affected by encephalitis and would like to become a member of the society, you can sign up here (membership is free and global): https://www.encephalitis.info/Pages/Category/membership
If you would like to donate to help fund research, information and support for those affected by encephalitis, please follow this link: https://www.encephalitis.info/donate/
Follow the Encephalitis Society: Facebook: https://www.facebook.com/EncephalitisSociety/
Twitter: https://twitter.com/encephalitis
Instagram: https://www.instagram.com/the_encephalitis_society_/
LinkedIn: https://www.linkedin.com/company/the-encephalitis-society