The Encephalitis Podcast is brought to you by the Encephalitis Society and covers everything to do surrounding inflammation of the brain. Interviews with neurologists, psychiatrists, survivors and in-depth looks at different aspects of encephalitis. For more information about encephalitis, visit www.encephalitis.info
Episodes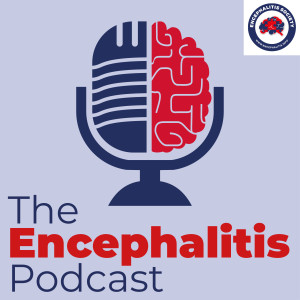 Thursday Feb 16, 2023
Thursday Feb 16, 2023
Best-selling author Susannah Cahalan joins host Dr Ava Easton for a special World Encephalitis Day edition of The Encephalitis Podcast.
Ten years ago, Susannah published Brain on Fire: My Month of Madness, the award-winning memoir and New York Times bestseller, which quickly become a Bible for members of the encephalitis community and many more people around the world.
Brain on Fire follows Susannah's struggle with encephalitis and, in particular, her diagnosis and recovery.
It was later developed into a Hollywood film by Charlize Theron and starred Chloe Grace Moretz.
Susannah chats to Ava about the 10th anniversary, why the book resonated with so many people, its legacy, how she reacted when Hollywood came calling, and the impact it has had on the encephalitis community.
The 10th anniversary edition of Brain on Fire is available from all good booksellers, including
UK readers (Kindle and Paperback) https://www.amazon.co.uk/Brain-Fire-My-Month-Madness/dp/1451621388
USA - https://www.simonandschuster.com/books/Brain-on-Fire-(10th-Anniversary-Edition)/Susannah-Cahalan/9781451621389
For more information about World Encephalitis Day on Wednesday, 22nd February, please visit www.worldencephalitisday.org
If you have been affected by encephalitis and are in need of some support, please visit https://www.encephalitis.info/support
If you have been affected by encephalitis and would like to become a member of the society, you can sign up here (membership is free and global): https://www.encephalitis.info/Pages/Category/membership
If you would like to donate to help fund research, information and support for those affected by encephalitis, please follow this link: https://www.encephalitis.info/donate/
Follow the Encephalitis Society: Facebook: https://www.facebook.com/EncephalitisSociety/
Twitter: https://twitter.com/encephalitis
Instagram: https://www.instagram.com/the_encephalitis_society_/
LinkedIn: https://www.linkedin.com/company/the-encephalitis-society