The Encephalitis Podcast is brought to you by the Encephalitis Society and covers everything to do surrounding inflammation of the brain. Interviews with neurologists, psychiatrists, survivors and in-depth looks at different aspects of encephalitis. For more information about encephalitis, visit www.encephalitis.info
Episodes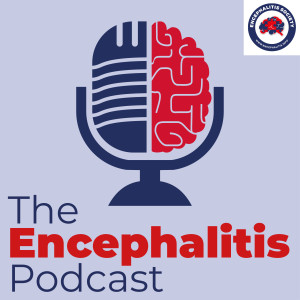 Monday Sep 26, 2022
Monday Sep 26, 2022
Suzie Miller - the author of Prima Facie - joins The Encephalitis Podcast to talk about her career, personal experiences of encephalitis which she contracted in her early 30s, becoming an Ambassador with the Encephalitis Podcast and much more.
Born in Melbourne, Suzie is an award-winning playwright and screenwriter who has a background in law and science, working as a human rights lawyer and children's rights lawyer before leaving the law to pursue a theatre writing career full-time.
Prima Facie debuted in Australia in 2019, winning several awards, before moving to London's West End starring Jodie Comer. It will be heading to Broadway in 2023.
We hope you enjoy Suzie's conversation with Dr Ava Easton, the host of The Encephalitis Podcast.
For more about Suzie and her work, visit her website http://www.suziemillerwriter.com/
If you would like to find out more about Prima Facie, visit their official website https://primafacieplay.com/
If you have been affected by encephalitis and are in need of some support, please visit https://www.encephalitis.info/support
If you have been affected by encephalitis and would like to become a member of the society, you can sign up here (membership is free and global): https://www.encephalitis.info/Pages/Category/membership
If you would like to donate to help fund research, information and support for those affected by encephalitis, please follow this link: https://www.encephalitis.info/donate/donate/10
Follow the Encephalitis Society: Facebook: https://www.facebook.com/EncephalitisSociety/
Twitter: https://twitter.com/encephalitis
Instagram: https://www.instagram.com/the_encephalitis_society_/
LinkedIn: https://www.linkedin.com/company/the-encephalitis-society