The Encephalitis Podcast is brought to you by the Encephalitis Society and covers everything to do surrounding inflammation of the brain. Interviews with neurologists, psychiatrists, survivors and in-depth looks at different aspects of encephalitis. For more information about encephalitis, visit www.encephalitis.info
Episodes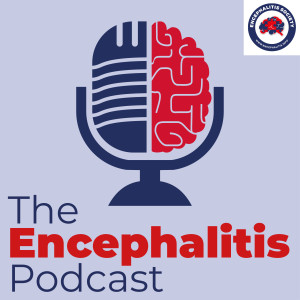 Friday Jan 13, 2023
Friday Jan 13, 2023
In this episode, Dr Ava Easton talks to author and motivational speaker Jackie Stebbins.
In 2017, the former trial lawyer from Bismarck, North Dakota, became ill with encephalitis and experienced a host of difficulties, such as insomnia, paranoia, hallucinations and memory loss.
In the summer of 2018, after being voluntarily hospitalized in the psychiatric ward, she was finally diagnosed with seronegative autoimmune encephalitis.
To help her recovery, she began writing and speaking about her journey with encephalitis.
Today, Jackie hosts the podcast, Brain Fever and is also the author of the JM Stebbins blog. In 2022, her memoir, Unwillable: A Journey to Reclaim My Brain, was published by Wisdom Editions.
We hope you enjoy this conversation with the articulate and passionate encephalitis awareness advocate!
For more information about Jackie and her book, blog and podcast, please visit https://www.jmstebbins.com/
If you have been affected by encephalitis and are in need of some support, please visit https://www.encephalitis.info/support
If you have been affected by encephalitis and would like to become a member of the society, you can sign up here (membership is free and global): https://www.encephalitis.info/Pages/Category/membership
If you would like to donate to help fund research, information and support for those affected by encephalitis, please follow this link: https://www.encephalitis.info/donate/donate/10
Follow the Encephalitis Society:
Facebook: https://www.facebook.com/EncephalitisSociety/
Twitter: https://twitter.com/encephalitis
Instagram: https://www.instagram.com/the_encephalitis_society_/
LinkedIn: https://www.linkedin.com/company/the-encephalitis-society