The Encephalitis Podcast is brought to you by the Encephalitis Society and covers everything to do surrounding inflammation of the brain. Interviews with neurologists, psychiatrists, survivors and in-depth looks at different aspects of encephalitis. For more information about encephalitis, visit www.encephalitis.info
Episodes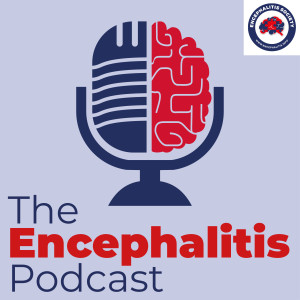 Tuesday Aug 02, 2022
Tuesday Aug 02, 2022
Award-winning playwright and screenwriter Abi Morgan joins Dr Ava Easton in this edition of the Encephalitis Podcast.
Abi, who is perhaps best known for the films Suffragette, The Iron Lady and Shame, is now an author, having recently published, This is Not a Pity Memoir.
The book tells the story of her husband when he develops Anti-NMDAR encephalitis, the impact his illness had on their family, and also Abi's own illness.
Ava said: "I devoured this book. It's incredibly written, profoundly insightful and, at times, brutally authentic. But also, as Abi says, not a pity memoir, but a love story."
We hope you enjoy this wonderful conversation!
This is Not a Pity Memoir is available from all online good bookshops.
If you have been affected by encephalitis and are in need of some support, please visit https://www.encephalitis.info/support
If you have been affected by encephalitis and would like to become a member of the society, you can sign up here (membership is free and global): https://www.encephalitis.info/Pages/Category/membership
If you would like to donate to help fund research, information and support for those affected by encephalitis, please follow this link: https://www.encephalitis.info/donate/donate/10
Follow the Encephalitis Society: Facebook: https://www.facebook.com/EncephalitisSociety/
Twitter: https://twitter.com/encephalitis Instagram: https://www.instagram.com/the_encephalitis_society_/
LinkedIn: https://www.linkedin.com/company/the-encephalitis-society