The Encephalitis Podcast is brought to you by the Encephalitis Society and covers everything to do surrounding inflammation of the brain. Interviews with neurologists, psychiatrists, survivors and in-depth looks at different aspects of encephalitis. For more information about encephalitis, visit www.encephalitis.info
Episodes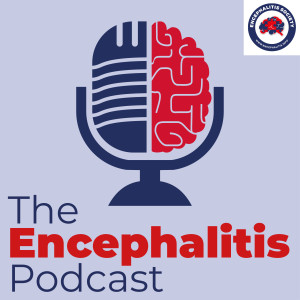 Monday Oct 17, 2022
Monday Oct 17, 2022
Welcome to a special edition of the Encephalitis Podcast. As it is Encephalitis Information Week (Oct 17 to 21, 2022), we wanted to talk about the theme of this year's campaign - measles.
This is a topic we wanted to discuss as recent research revealed that uptake of the Measles, Mumps and Rubella – or MMR vaccine - in England has fallen to its lowest levels in a decade and indeed even before the covid-19 pandemic the WHO declared that the UK had lost its measles-free status.
The issue around childhood vaccinations is not restricted to the UK, however.
In July, the World Health Organization revealed that 25 million children globally missed out on one or more of the doses of the vaccine against diptheria, tetanus and pertussis. That is the largest sustained decline in childhood vaccinations in approximately 30 years, according to the WHO and UNICEF.
But why is the uptake of this vaccine at an all-time low? Is measles still a threat? How contagious is measles? Is there a risk of an outbreak?
All these questions and more are answered by this episode's guest, Professor Benedict Michael, Chair of Infection Neuroscience at the University of Liverpool. Podcast host: Dr Ava Easton, Chief Executive of the Encephalitis Society
If you want to find out more about measles and Encephalitis Information Week, please visit www.encephalitis.info/informationweek
If you have been affected by encephalitis and are in need of some support, please visit https://www.encephalitis.info/support
If you have been affected by encephalitis and would like to become a member of the society, you can sign up here (membership is free and global): https://www.encephalitis.info/Pages/Category/membership
If you would like to donate to help fund research, information and support for those affected by encephalitis, please follow this link: https://www.encephalitis.info/donate/donate/10
Follow the Encephalitis Society: Facebook: https://www.facebook.com/EncephalitisSociety/
Twitter: https://twitter.com/encephalitis
Instagram: https://www.instagram.com/the_encephalitis_society_/
LinkedIn: https://www.linkedin.com/company/the-encephalitis-society